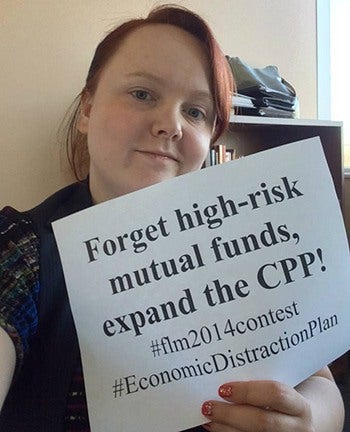 Conservative campaign a "distraction" from the need for real financial solutions.
Canadians work their whole lives to provide for their families and for a secure retirement, but instead of helping out the Harper government is turning financial planning into an Internet selfie contest.
The Financial Consumer Agency of Canada is holding a "selfie" contest to promote financial literacy. This skill is important, but a poor substitute for real financial security. The selfie challenge adds insult to injury after the Harper government's sustained campaign to whittle away Canadians' safety net and leave working Canadians to fend for themselves.
If the Conservatives are serious about helping us achieve financial security they should stop their attacks on working Canadians and start:
Creating good jobs
Protecting public services
Expanding the Canada Pension Plan and restoring the age of eligibility for

OAS

and

GIS

Improving Employment Insurance
Strengthening our public health care system
Investing in a national child care program
Making post-secondary education more affordable and reducing student debt
Their attacks have left far too many people in precarious, low-paid jobs. Now Harper is telling us we'll be okay if we simply make our coffee at home and save a toonie a day to put towards retirement.
Let the Conservatives know their economic "distraction" plan is not good enough!
Post a protest selfie
To participate, post your own selfie with a message on Facebook, Twitter or Instagram, showing the Conservatives what "real life" economic solutions you want from the federal government.
Print and pose with one of the messages below or come up with your own
Upload your photo and create a meme using an app like quickmeme.com
Make sure to add both of these hashtags: #FLM2014contest #EconomicDistractionPlan
We'll share all of the selfies with these hastags. Visit the Economic Distraction Plan Facebook page to see the photo album.