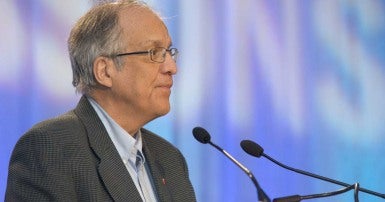 The large CUPE family was deeply saddened to learn of the death of Michel Lizée, an exceptional activist who worked all his life to make workers aware of the importance of planning and financing their retirement.
"Michel made a tremendous contribution to the democratization of retirement by couching this complex topic in layperson's terms and training numerous activists. Before making his mark at the FTQ, he was in the ranks of CUPE, more specifically, the Syndicat des employées et employés de l'UQAM (SEUQAM). We salute him, thank him for his contribution and offer our deepest condolences to his family and friends," said Benoit Bouchard, president of CUPE Quebec.
His achievements include the implementation of the innovative FTQ wage-funded pension plan for workers in community and women's groups. In 2010, this plan won the prestigious Plan Sponsor Award from Benefits Canada in Toronto. He was also one of the major architects behind the implementation and development of the UQAM Community Service, which now dates back more than 30 years, whose objective is to support the work of unions and community groups in Quebec.
An economist by training, UQAM hired Michel Lizée as a research officer back in 1972. Four years later, he joined the SEUQAM (CUPE 1294). He was initially a union representative in 1978 and sat on the Conseil régional FTQ Montréal métropolitain, on the Retirement Committee and was then elected president of the SEUQAM, an office he held from 1983 to 1988.
A member of the Université du Québec (RRUQ) pension plan retirement committee for more than 30 years, Michel Lizée was one of the most high-profile experts on pension plans, which truly were a passion of his. It was important to him that all employees, whether unionized or not, enjoy a retirement befitting the term.  
"He did a great deal to make Quebeckers aware that neglecting the planning of our retirement was something we could not allow to happen," said Bouchard. "He left an indelible mark on the union movement."