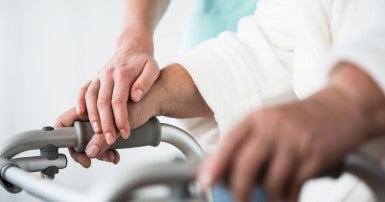 National Nursing Week - May 8 to May 14 - is our chance to recognize nurses for keeping the pulse of Canada's health care system strong. It is also a time to celebrate Care Aides, Continuing Care Assistants, and Personal Support Workers and the hard work they carry out across the country.
Mark Hancock, National President of CUPE, and Charles Fleury, National Secretary Treasurer, thanked CUPE nurses and health care workers for their dedication and hard work on the frontlines, ensuring quality care all Canadians depend on.
"Our universal health care system relies on the work of CUPE nurses and health care workers, who bring not only clinical skills and professionalism to the job, but also empathy, compassion, and a commitment to quality care each and every day," said Hancock and Fleury in a letter sent to all CUPE locals.
This year has seen greater awareness about violence in the workplace, and we applaud members and staff who have worked tirelessly to advance LPN, RPN and RN issues such as "fighting for proper workloads and staffing ratios; advocating for full skill utilization; negotiating fair compensation; fighting against hospital cuts; and collaborative or team nursing." For personal support workers, "CUPE continues to push to improve working conditions and advocate for federal funding."
CUPE proudly represents tens of thousands of Registered Practical Nurses (RPNs), Licensed Practical Nurses (LPNs), and Registered Nurses (RNs) in hospitals, rehabilitation centres, surgery units, teaching hospitals, long-term care facilities, and home and community care.
CUPE nurses and health care workers are also fighting against privatization and austerity, and for quality public services in our communities. CUPE nurses and health care workers continue to be on the frontlines, fighting for quality public health care and working hard to advance health care workers' issues.