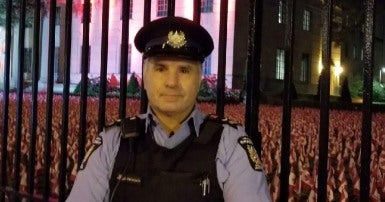 After months of seemingly endless winter, spring finally seemed to arrive in Toronto on April 23. Long overdue, the sun shone brightly, encouraging residents to doff their heavy clothes and spend time outside.
At 1:26 p.m. that day, everything changed.
A rental van mounted a busy sidewalk in the north end of Toronto, speeding southward and running down dozens of pedestrians before coming to a stop several blocks away. By the time police arrested the driver 26 minutes later, ten people were dead and 15 more injured.
In the midst of terror and tragedy, heroes emerged.
Heroes like TTC Special Constable Bill Perivolaris, who was one of the first responders to arrive on scene. A member of CUPE 5089 which represents TTC Special Constables, Fare Inspectors and Protective Services Guards, Perivolaris' training immediately kicked in. With his partner's help, he rushed to assist the injured and help other officers secure the scene.
"I was much too busy to think about what was going on other than to assist as much as possible and allow your training to do what it's supposed to do," Perivolaris told the Toronto Star after completing a 15‑hour shift at the scene of the tragedy.
Perivolaris was one of the first on the scene, but many other CUPE members and other public employees assisted in so many ways. As the magnitude of Monday afternoon's horror became clear, about a dozen more special constables attended the scene to assist.
Paramedics—members of TCEU CUPE Local 416, rushed to the scene to stabilize the injured and transport them to area hospitals, where other public sector workers worked to save lives and mend broken bodies.
In the aftermath, so many other public employees—from CUPE and other unions—dealt with so many other aspects of the tragedy, from cleaning and securing the affected area, to helping the traumatized survivors and counselling the bereaved.
"We are all devastated by what happened in Toronto on Monday. We know at least two CUPE members were among the victims of this horrific attack. Out of this tragedy's horror has emerged some of humanity's best. We are so grateful to, and proud of the many CUPE members and other public employees who are helping Toronto heal," said CUPE Ontario President Fred Hahn.
Mark Hancock, CUPE National President, echoed Hahn's sentiments.
"There's one word that describes the many acts—big and small—by so many CUPE members and other employees in the face of Monday's horrific attack, and that word is 'heroic'," he said.