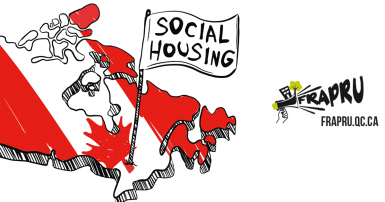 No more giveaways to rich developers.
Recently proposed "solutions" to the housing crisis call for a significant injection of housing supply – a supply of for-profit apartments owned and operated by real estate investors and Real Estate Investment Trusts, the same actors responsible for creating the housing crisis and making renting and home ownership unaffordable.
Five years since the adoption of the failed National Housing Strategy, the Trudeau Liberals have already spent billions to enrich developers who have built housing that remains unaffordable.
Now, the real estate investors want to blame immigration for the housing crisis. But immigrants are not causing the housing crisis, investors are. Speculative investors are gambling with housing to make a quick profit and governments are letting them get away with it instead of protecting homes for families.
We need a housing strategy that puts people before profit.
This means more social housing. After all, only 3.5% of Canada's social housing stock is social housing – half of the OECD average.
CUPE members are urged to join a rally on October 5 on Parliament Hill organized by FRAPRU to call on the federal government to prioritize social housing.
Click here for the rally's Facebook event
Federal housing policy continues to focus on giveaways for profit-hungry developers instead of what will truly solve the housing crisis – Protecting the right to housing, and building publicly owned and delivered housing, social housing and non-market housing including non-profits and co-operative housing.
Le Front d'action populaire en réaménagement urbain (FRAPRU) is a coalition of tenants associations and housing groups in Quebec that advocate for more supports and funding for social housing. They have been active since 1978.