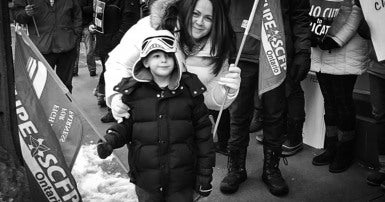 CUPE members will join other advocates and allies of the province's children at the "No Cuts to Education - United We Resist" rally, which will take place from 5 to 8 p.m. February 27 at the Toronto Congress Centre in Etobicoke.
Education activists from unions, parent and student groups, and other supporters will rally at 650 Dixon Road, outside the congress centre that is hosting the Ontario PC caucus' 2019 Toronto Leader's Dinner.
At $1250 a ticket, the event is a fundraiser for the Ontario PCs, and party leader Doug Ford is the evening's keynote speaker.
"Everything we've seen from the Ford government so far tells us that Ontario's system of public education is at risk," said Laura Walton, president of CUPE's Ontario School Board Council of Unions (OSBCU), which represents 55,000 education workers across the province.
"Our children's future – and the future of our province – is under threat from this government. We are here to remind Ford's Conservatives that CUPE education workers will always stand up for high-quality public education," declared Walton.
Ontario schools have been underfunded for years, yet the Ford government campaigned on a 4 percent across-the-board cut that would take more than $1 billion out of the province's education system. The Ford government has already cut $100 million for repairs to schools, withheld the Parents Reaching Out grants from school boards, and slashed $25 million in program funding for young people.
"The symbolism of this evening couldn't be any clearer," said Fred Hahn, president of CUPE Ontario. "Outside, you have activists fighting for the right of Ontario's children to a high-quality public education; inside, you have Doug Ford, boasting to his influence-buying cronies about how he'll make the most vulnerable Ontarians pay for his cuts to public services.
"But the Premier should know that CUPE Ontario members have seen this before and won't be deterred from taking action to stand up for the rights of parents, students, and communities."