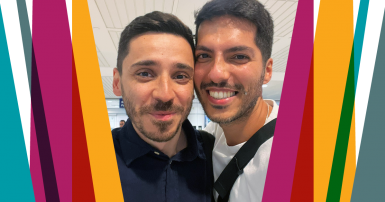 After nearly two years of unjust detention as a political prisoner in Turkey, CUPE 4600 member Cihan Erdal has safely returned to Canada. From the moment of Erdal's arrest on Sept. 25, 2020, CUPE has used our voice as Canada's largest union to call for his freedom as part of a global solidarity campaign led by Erdal's partner Omer Ongun. 
Erdal is a queer youth activist and Carleton University PhD student who was unjustly detained on trumped-up charges in September 2020, when he was swept up in a mass arrest of politicians, activists, and academics in Istanbul. 
Ongun campaigned tirelessly for Erdal's freedom, building a movement that drew national and international attention, including from unions, academics, 2SLGBTQI+ activists, the United Nations and the European Parliament. 
Erdal was jailed for nine months, including time in solitary confinement, before being conditionally released in June 2021. However, harsh bail conditions limited his freedom, preventing him from leaving Turkey. 
"From day one, CUPE's had Cihan's back," said CUPE National President Mark Hancock. "That's the power of solidarity, and it shows what's possible when we organize to fight injustice. Together, we sent thousands of messages to Canadian and Turkish officials that kept Cihan's case in the public eye and built a powerful wave of pressure," said Hancock. 
Erdal's case is a reminder of the need for international solidarity in a time when attacks on workers and other activists are increasing globally. 
"I'm thrilled and relieved Cihan's back in his Ottawa home. What he went through is a reminder that around the world, trade unionists and other activists face violence and arrest for their political activities. Let's keep putting our energy and activism into building a world where people like Cihan can speak up and organize without fear," said CUPE National Secretary-Treasurer Candace Rennick. 
CUPE is celebrating this great news, and we will be working to share Cihan's story when he's ready to tell it in the coming days.