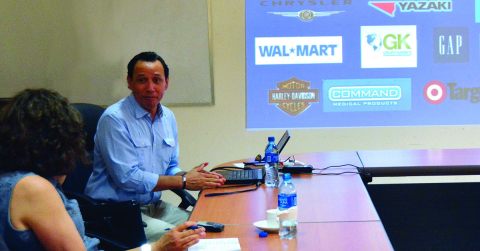 Canadian foreign policy: Why we need to act
Canadian environmental and human rights advocacy organizations are experiencing an unprecedented level of harassment from the federal Conservative government. Organizations raising the alarm over the impact of the tar sands on the environment or those exposing human rights violations around the world are now facing scrutiny on the basis of their charitable status. They find themselves knee-deep in paperwork in order to comply with targeted Canadian Revenue Agency audits.
At issue are the political activities of these organizations with charity status. Do their activities fall within the "10% rule"? This rule dictates that charitable status can be revoked if organizations are spending more than 10 per cent of their funding to engage in political advocacy. Targeting the activities of our human rights and environmental advocates is a tactic used by the federal Conservative government to silence opposition.
Canadian foreign policy has historically promoted human rights, peacekeeping, and humanitarian aid to support poorer nations, particularly in Africa. Today, Canadian diplomatic, trade and investment policies are being used to support the economic interests of the corporate sector. Whether it's control over oil resources in the Middle East or corporate profits for the mining sector in Central and South America, Canada's foreign policy has become single-minded in assisting corporate interests.
The 2013 federal budget announced that the Canadian International Development Agency (CIDA) would be merged within the Department of Foreign Affairs and International Trade (DFAIT), explicitly tying corporate interests to development aid.
The federal conservative government has drawn criticism and condemnation from all corners of the planet for their refusal to address climate change. The government is aggressively lobbying the European Union and the US to support the tar sands and dirty oil in an effort to secure international markets.
Canadian foreign policies have dire consequences for workers in other countries. It is in this context that non-governmental organizations feel targeted when they work to mitigate and expose the impact of these policies on communities around the world.
Trade and Investment

International trade and investment agreements, commonly referred to as Free Trade Agreements (FTAs), are proliferating globally. FTAs are agreements promoted by corporate business leaders to governments. They stand to profit where privatization and deregulation are imposed. FTAs undermine the public sector and strengthen corporate power to the detriment of the world's most vulnerable people.
In January 2014, activists from Canada, the US and Mexico gathered in Mexico City to expose the true impact of the North American Free Trade Agreement (NAFTA) on communities and workers.
They concluded that since the signing of NAFTA there has been a rise in inequality and impoverishment of the population, increased unemployment and environmental degradation.
The Comprehensive Economic and Trade Agreement (CETA) is being negotiated as a "next-generation" free trade deal that goes beyond NAFTA in shielding corporate activity from government controls. CUPE continues to strongly oppose CETA on the grounds that it impacts how local governments purchase goods and services, disrupts local economic development policies, increases the cost of pharmaceu­ticals, and will be subject to new trade disciplines and Investor State Dispute Settlement challenges, among others.
CETA is just the tip of the iceberg however, when it comes to Canada's support and promotion of free trade. Canada continues to be party to the Trans Pacific Partnership (TPP), a multi-
lateral free trade agreement that is considered one of the most non-transparent and secretive trade negotiations in Canadian history. The agreement includes 12 nations: US, Japan, Australia, Peru, Malaysia, Vietnam, New Zealand, Chile, Singapore, Canada, Mexico, and Brunei Darussalam.
The goal of these agreements is to have corporate rule of state services and to deny access to those that cannot pay for them.
These agreements remove democratic control of our economy and our society by writing laws that limit our policy options.
At the beginning of 2012, about 20 World Trade Organization members (including Canada) calling themselves "The Really Good Friends of Services" (RGF) launched secret unofficial talks towards drafting a treaty that would further liberalize trade and investment in services. The new treaty is now referred to as the Trade In Service Agreement (TISA). TISA is an agreement that seeks to undermine public services through supporting privatization and deregulation. It also wants to adopt disciplines on how services sectors can be governed effectively, restricting governments' and parliament's rights to regulate. TISA represents a clear and present danger to the public sector in Canada.
The proposed agreement is the direct result of systematic advocacy by transnational corporations in banking, energy, insurance, telecommunications, transportation, and water sectors. CUPE continues to challenge the free trade agenda along side the Public Service International, Council of Canadians, Trade Justice Network, and Common Frontiers.