UN

Commission on the Status of Women

Women called for universal free education and access to the basic guarantees of social protection at the 58th session of the United Nations Commission on the Status of Women from March 10 to 21, 2014.  Representatives from trade unions around the world gathered in New York City to lobby governments at the UN Commission. They identified that decent work for women and living wages are essential to improve the lives of millions of women globally.

Women expressed grave concerns with the reductions to budgets supporting public services in response to the global economic crisis. These cuts increase poverty and have a disproportionately negative impact on women and girls. 

For more information, see unioncsw.world-psi.org.
Public Services International
CUPE National President Paul Moist and National Secretary-Treasurer Charles Fleury joined Public Services International (PSI) North American affiliates in Washington, D.C. in January to discuss their struggles to defend labour rights, international soli­darity, and strategies to fight back. Legislative attacks as well as the impact of free trade and privatization on public sector workers were at the forefront of the discussion.
CUPE is eager to continue working with PSI as it increases its focus on solidarity campaigns, increased visibility to the public and lawmakers, joint actions and information exchanges.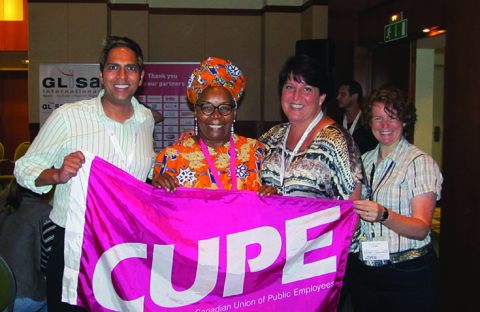 World Outgames
The World Outgames Lesbian, Gay, Bisexual and Transgender (LGBT) Human Rights Conference in Antwerp, Belgium was a great opportunity to listen to amazing keynote speakers such as LGBT Cameroonian rights lawyer Alice N'Kom.
A delegation of activists including Annaliese Hunt CUPE 7000, Audrey Gauthier CUPE 4041 and Sajid Sheikh CUPE 4092, with staffing support from Michael Butler (Executive Assistant to the National Secretary-Treasurer), participated in the conference in summer 2013.
The delegation gave a lunch-hour presentation on transphobic harassment and discrimination in employment and health care services in Canada.
Delegates participated in discussions with other grassroots activists and networked with sisters and brothers from around the world. Over 70 countries were represented at the conference, from Asia to South America, South Africa to the northern countries.
Activists talked about their personal fights, stories and sometimes, successes. The conference was organized around plenary sessions and workshops with topics ranging from health for the LGBT community to unions and LGBT rights.
American Federation of State and Municipal Employees
CUPE continues to work with the American Federation of State and Municipal Employees (AFSME) to exchange ideas and strategies to protect and expand the public pension system in Canada and the United States.  AFSME participated in CUPE's National Bargaining Conference in 2013 to share broad fight back strategies to combat attempts to curtail our right to organize and belong to a trade union by too many political leaders and the corporate elite. Our solidarity is our strength.