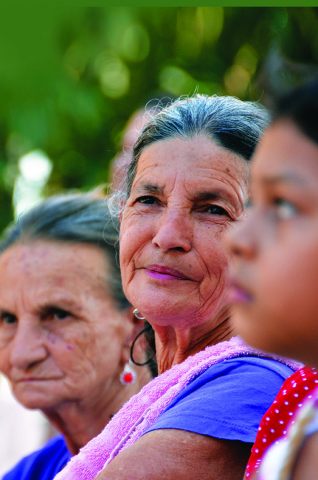 Worker to worker solidarity is a founding principal in the labour movement that has brought workers together from all corners of the globe. It is the maxim we follow in our global justice work.
In Canada, CUPE members share cause for concern with workers around the world. Our every day life is shaped not only by decisions our employers make, but also by global policies that aim to reduce the rights of workers and their unions to the lowest common denominator.
Globally, workers share the experience of growing economic inequality, attacks on trade union rights, escalating repression, and in some countries risks to personal safety including death. During these challenging times our solidarity is our strength. Our solidarity with the global labour movement and our support for the struggles waged by our sisters and brothers internationally continues to be a priority for CUPE.
The power of collective action from Turkey to Brazil, South Africa to Spain inspires and stokes the flame of hope. People are rising up to demand justice and democracy. They want full access to water, education, health care and the right to join a union. Citizen participation as monitors in the Honduran elections help to ensure the process is fair and free from violence. In other cases, community participation builds on people's strength in opposing corruption and foreign interference in the electoral systems.
This past year, we mourned the loss of former South African President Nelson Mandela. Through his leadership and activism in the African National Congress, even from a prison cell, Mandela inspired many South Africans and became the face of the global movement to end apartheid. International solidarity was critical to that movement. Workers and their unions around the world took courageous positions against apartheid despite pressure from employers and governments, including the government of Canada.
CUPE continues to stand in solidarity with the most oppressed peoples globally. The role of the Canadian government international­ly has changed dramatically under the Conservative government of Stephen Harper. Canadian foreign policy has garnered mistrust from our allies. Canada's changing military, diplomatic and economic role has brought a new kind of urgency to the global justice work we do. Whether it is raising awareness about health and safety for garment workers or sharing experiences and strategies with our sister union in the UK, we act locally and think globally.
In this annual report, you will read about worker-to-worker projects that bring together unions and social movement organizations in the Philippines, Burma, Nicaragua, Colombia, Honduras and Cuba. The report also looks at the current state of international trade deals and Canadian foreign policy decisions.
We thank CUPE locals and divi­sions who continue to contribute to the Global Justice Fund and encourage others to do so.
Paul Moist
CUPE National President
Charles Fleury
​CUPE National Secretary-Treasurer