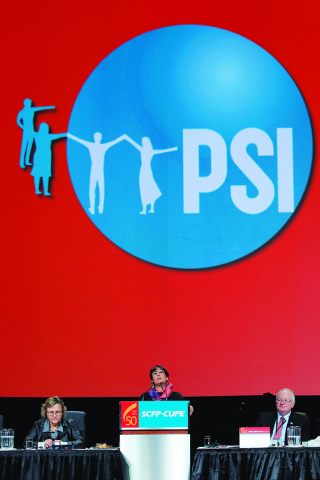 At the heart of
CUPE

's international program is the solidarity and commitment we express to our sisters and brothers globally.

Global justice partners from around the world participated in our 26th National Convention in Quebec City in 2013. CUPE invited international guests from the labour movement in the UK, Philippines, South Africa, and Honduras. Public Services International also joined CUPE members for presentations and discussions about the conditions of workers and social movements around the world. Delegates tackled the question of how best we can support each other in our respective struggles.

The attack on union rights is currently the number one priority for public sector unions in every part of the world. That was the message from Rosa Pavanelli, General Secretary of Public Services International (PSI). Pavanelli told delegates the recent financial crisis created by bankers and speculators led to attacks on public services and the union movement. She praised CUPE for taking stands on a broad range of issues not limited to the employment conditions of members. Those stands, Pavanelli argued, create bonds and community with the public that will help in CUPE's efforts to battle attacks on public services.

It is clear as we emerge from the recent global economic crisis, economic inequality is growing and the rich continue to get richer. Workers in Canada face increasing repression and significant attacks on trade union rights. Our guests spoke about the urgent need for solidarity. Their message was clear: we are all facing the downward spiral of our rights. The cause is also clear: government policies favouring corporate profits rather than supporting workers' demands for fair compensation and respecting the work they do.

Trade union repression is rampant in the Philippines where activists and organizers are being detained and killed for standing up for their rights. Privatization and lack of access to affordable services are denying South Africans' access to water and electricity in the most impoverished communities. In Honduras, women workers are facing outrageous exploitation in factories producing clothing for some of the richest multinational corporations in the world. Governments in the UK are imposing austerity measures in the same way the federal, provincial and municipal governments are imposing them in Canada.

International solidarity is key to developing successful strategies in defending workers' rights. To ensure that CUPE's work continues delegates adopted our strategic directions paper and passed Resolution 181. The resolution calls for a strategic meeting to be held in 2014 to consider CUPE's international solidarity work and how to stabilize and grow the global justice fund moving forward.